BLACK SARIRA PHRA THAT CHEST RELIC BENJAPAKEE SET OF 5 BUDDHA AMULETS RARE
(More pictures below)

SET OF 5 BLACK SARIRA PHRA THAT BUDDHA AMULETS from THAILAND
BENJAPAKEE SET
**** We donated for this set at the Phra Si Rattana Mahathat Temple Thailand. ****(Pictures below).
The black sarira relics studded in these 5 amulets can also be called:
Phra That India / Phra Thad / Phra That / Phra Tart / & Phra Tad.

GAUTAMA BUDDHA * SHAKYAMUNI BUDDHA RELIC AMULETS.
All of our SACRED BLESSED & EMPOWERED items are guaranteed to be authentic and as described.
The reason for the release of these amulets is that the Earth as we know it is now a dark and dangerous place and we would like spiritual and sacred people to be part of the new awakening.
Benjapakee
"Benjapakee" is an ancient word from Pali. Benja means 5 kind or type, Pakee means set or grouping. So Benjapakee means 5 different types of amulets in a group or set. A group of well-known amulet collectors in early 1950s suggested a guide for the Thai people, the best choice to worn on their neck, Also taking into consideration of the Buddha history, age, form and size etc.
** Sarira Pearls / Roses / Phra Tath Buddha Relic Benjapakee set from Phra Si Rattana Mahathat Temple Thailand. **

For self-confidence, securing a goodrelationship.

This is a Buddha amulet from Thailand called a 'PHRA SOMDEJ'. (The King of amulets).


Thai people believe that the Phra Somdej amulet is the best amulet to give very strong protection to the wearer. A Phra Somdej amulet will help you acquire great wealth, give you good luck in your business and every day life, will help you overcome any obstacles in life, will protect you from being harmed and protect you from all types of danger. A Phra Somdej amulet will also protect you from evil spirits .




Phra Somdej were created by Somdej Phra Buddhacara Toh Prommarangsi (Somdej Toh) son of

King Rama I.

He started to make Phra Somdej amulets in B.E.2409. Materials for making Phra Somdej comprise of : Shell lime, holy powder, assorted flowers from shine, rice, lotus, ashes, honey, banana, tang oil, etc. When the amulet has been created it is chanted with spells by Buddhist monks. A Phra Somdej amulet will bless you for good karma and strong protection against negative energy. A total of 84,000 amulets were made at the time. Phra Somdej Wat Rakhang is one

of the most famous and the best amulets from Thailand.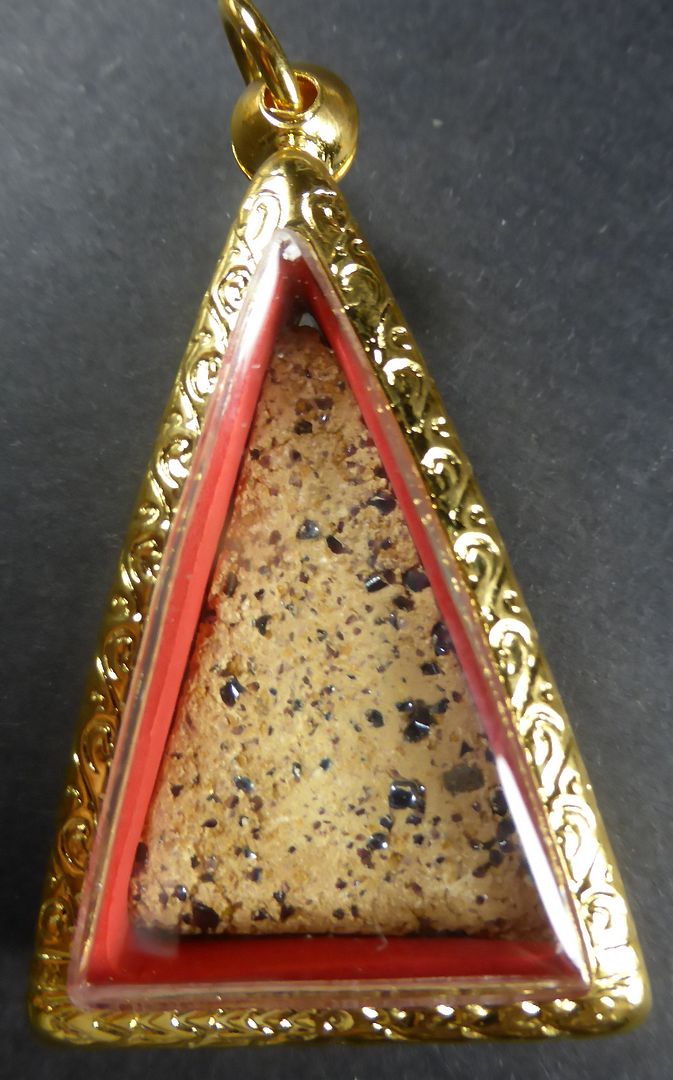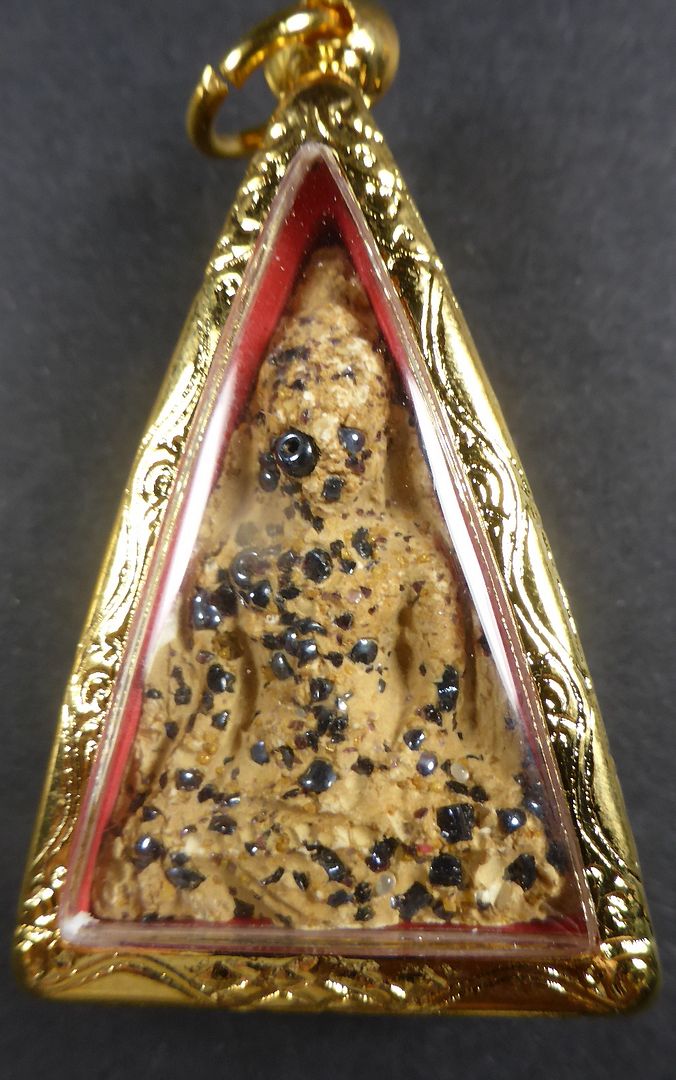 This is a Buddha amulet from Thailand called a 'NANG PHAYA'. (The Queen of amulets)
Phra Nang Phaya were created during of Ayuttaya era, Phitsanulok province. The major discovered are from Wat Nang Phaya around B.E.2444. The temple was said to be built for merits making to his Queen, the mother of King Naresuan, the Thai people given name "Queen of Thailand amulets". Phra Nang Phaya are very famous for bless strong with attractiveness and respectful from all others, also power on charm and safe from all dangers..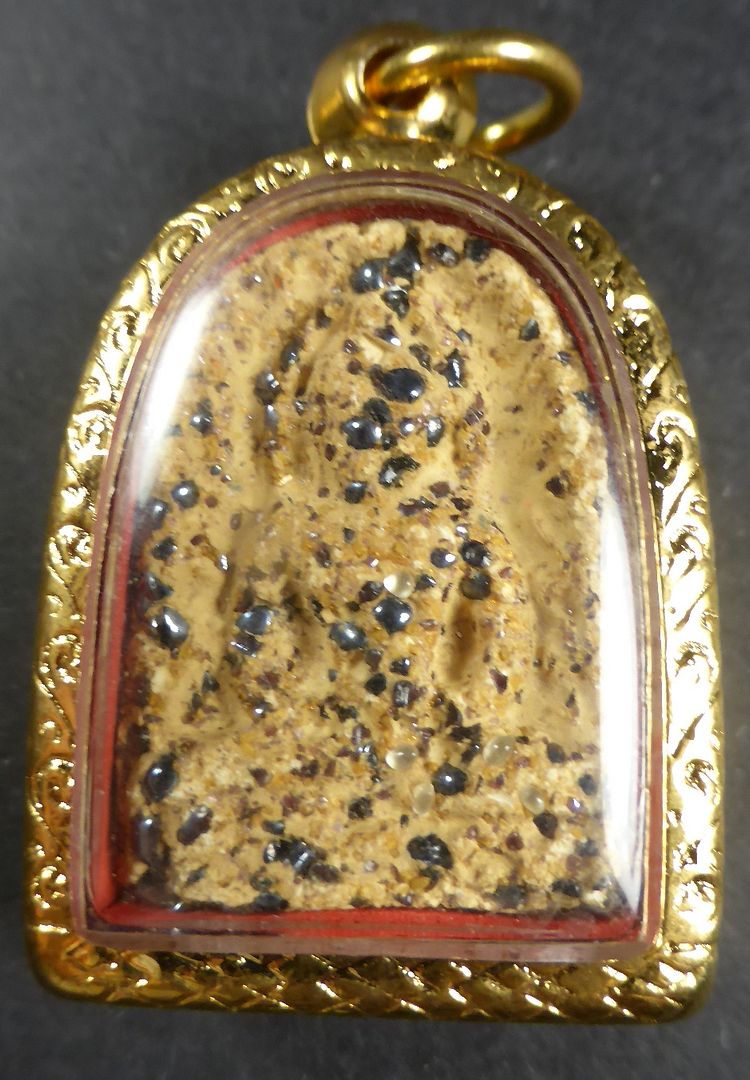 This is a Buddha amulet from Thailand called a 'PHRA SOOMGOR'.
Phra Somgor were first discovered on B.E. 2392 in Wat Phra Boromathat, Kamphaeng Phet province. The amulets were created in the era King Phra Maha Dharmarajalitai, the 5th king of Sukhothai. Phra Somgor is a mixture of Sukhothai-Lanka (Sri Lanka) style. It form a sitting posture of a thumb shape. According to memorandum of Wat Phra Boromathat, Phra Somgor amulets were made by 11 hermits or Phra Lersi using special materials and invited Devadas to create the molds. There is a slogan for Phra Somgor " If you have me, you never get poor". Estimated to be made some 550 years.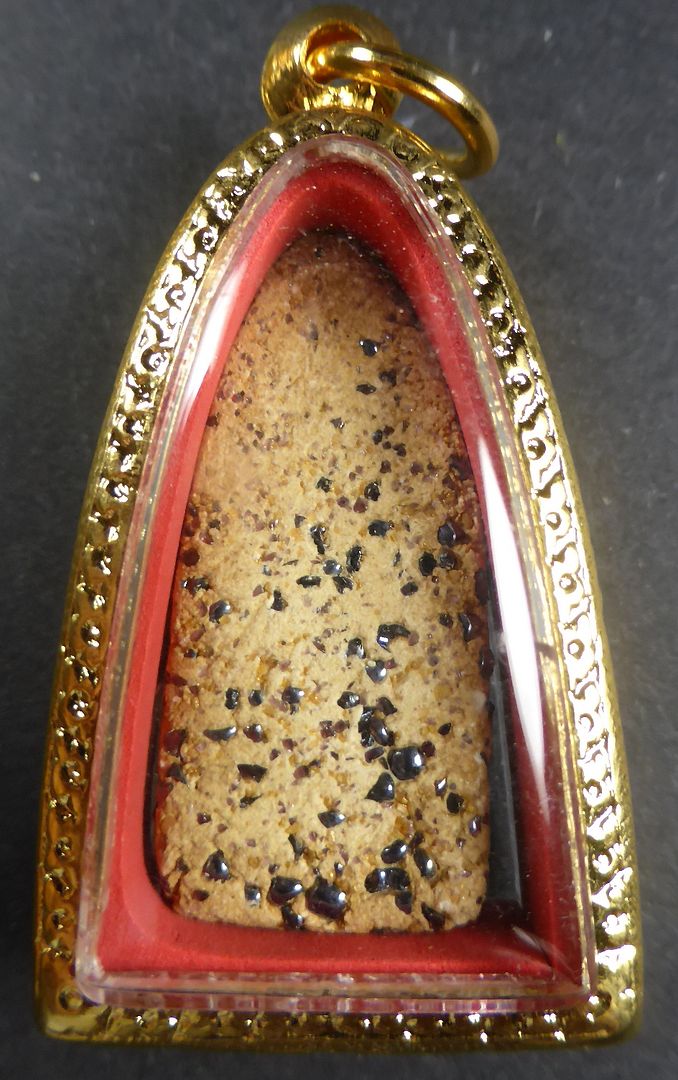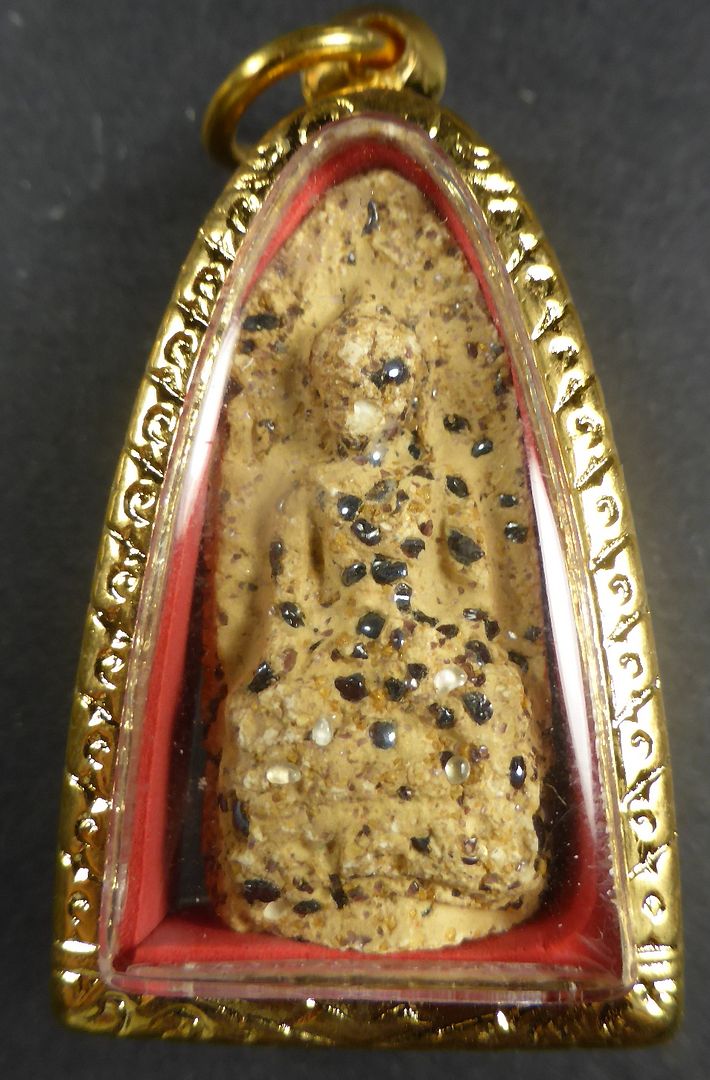 This is a Buddha amulet from Thailand called a 'PHRA ROD'.
Phra Rod was created by a hermit. First discovered during the earlier days of King Rama 5 reign when a pagoda from Wat Mahawan in Lumphun province. The Thai people regard this particular amulet as Buddha of Escape, they have superb Buddhistic power, especially in protection and being safe from all dangers and disasters or misfortunes. They are made of clay and the oldest once are over 1,250 years old.

If you enquired about an amulet that could protect you from evil and dangers, one of the many amulets cited may be the Phra Rod Wat Mahawan Buddha amulet. This amulet has over thousands of history and legend attached to it.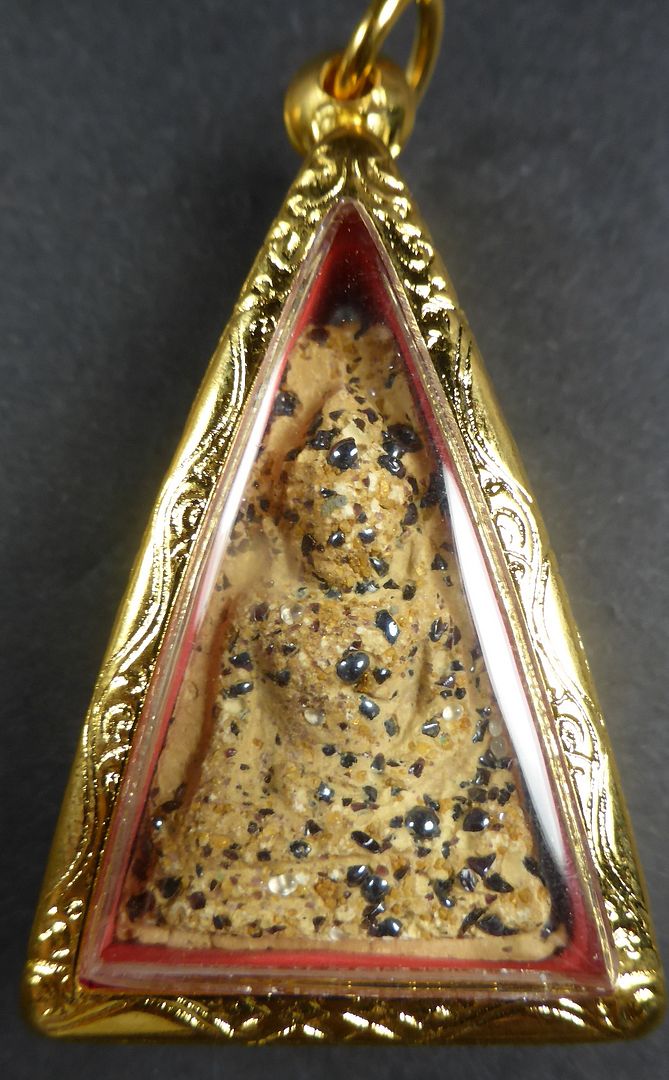 This is a Buddha amulet from Thailand called a 'PHRA PHONG SUPAN'.
Phra Phong Supan were discovered on B.E. 2456 in Wat Phra Sri Ratanamahathat in Supanburi province. According to a golden scripture found together in the pagoda which described that Phra Phong Supan was created by Phra Mahathera PiyaThassi Saribut during the period of King Bormrajathiraj 2nd. It has strong
"U-thong" art style. Most of these amulets were unique as at the back they had a thumb print of the creator.
A superb Buddha amulets, this has huge protective power against weapons and brings good luck. Is the one of the most powerful amulets ever created.
************************************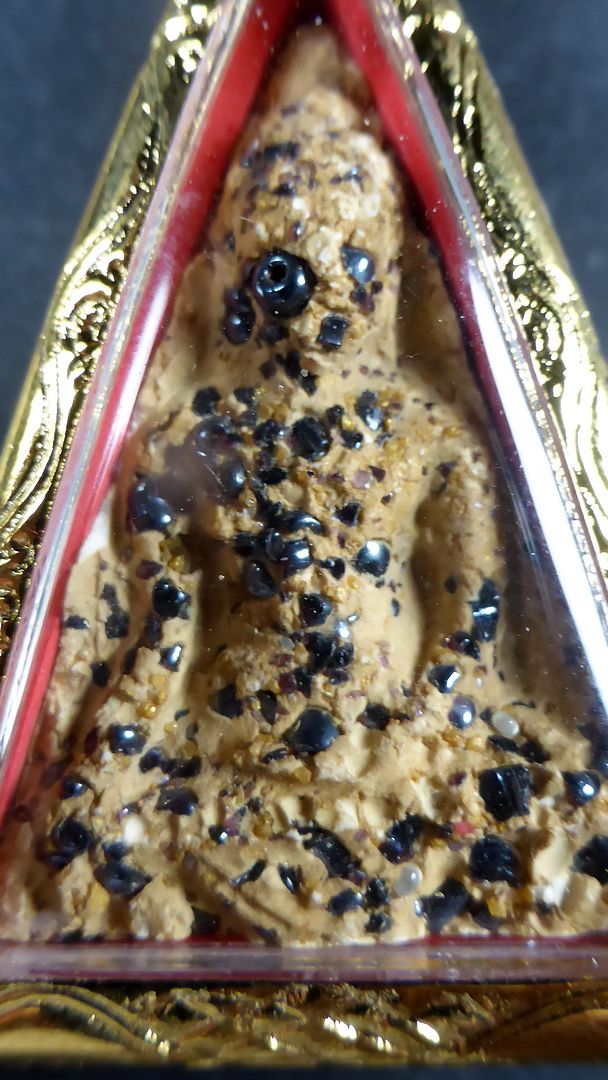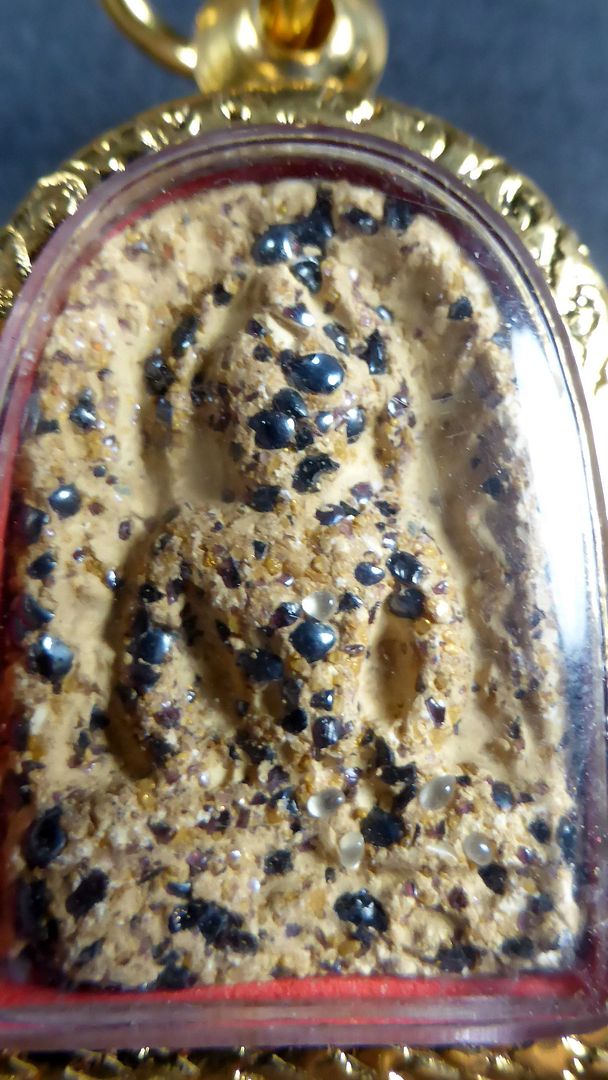 BLACK SARIRA PHRA THAT STUDDED INTO AMULETS.
BUDDHA CHEST RELICS INDIA.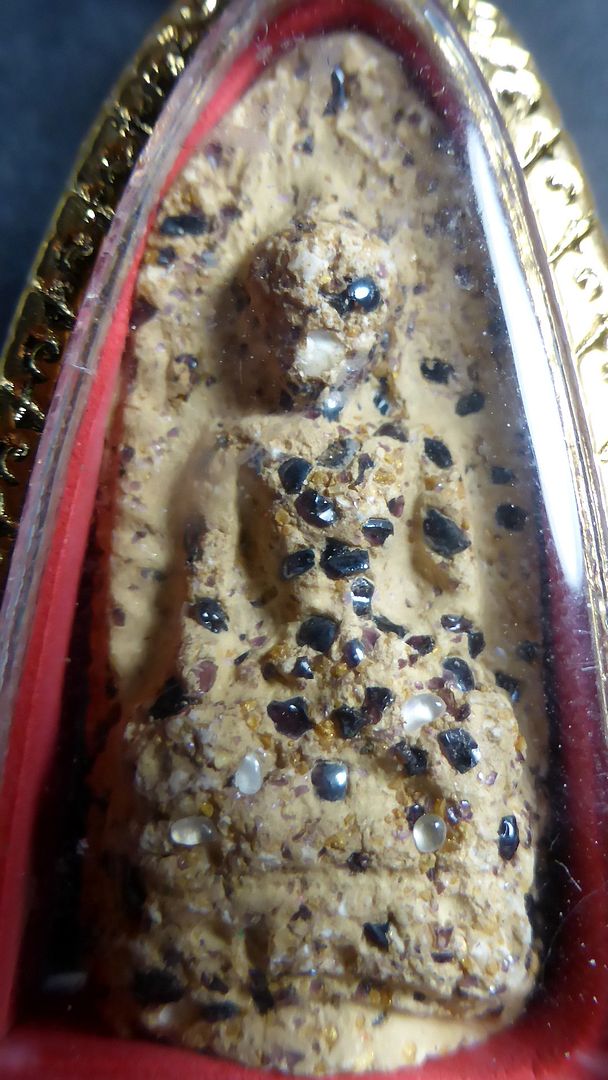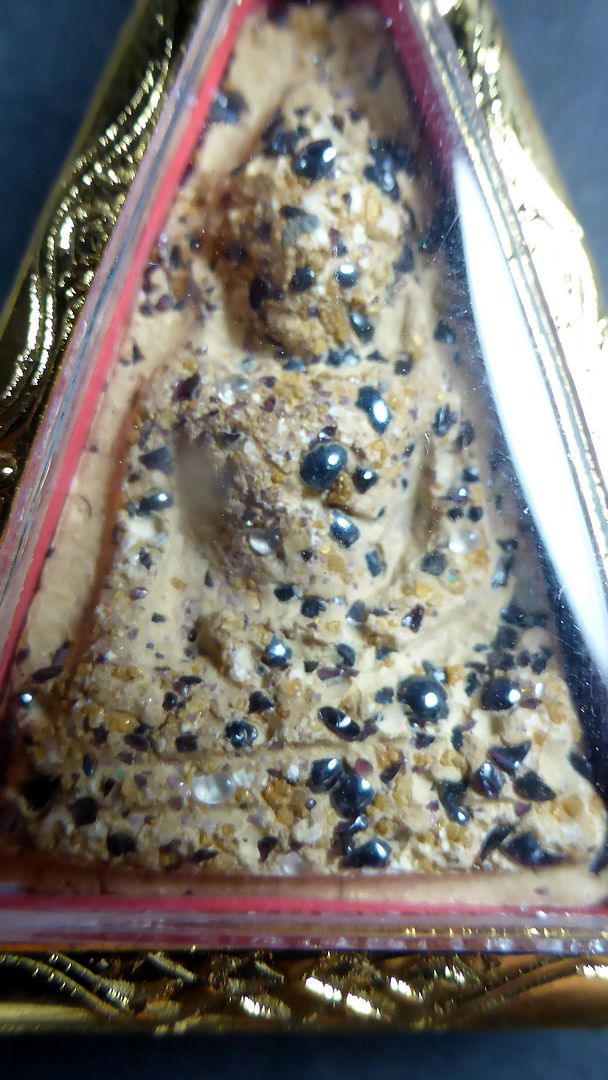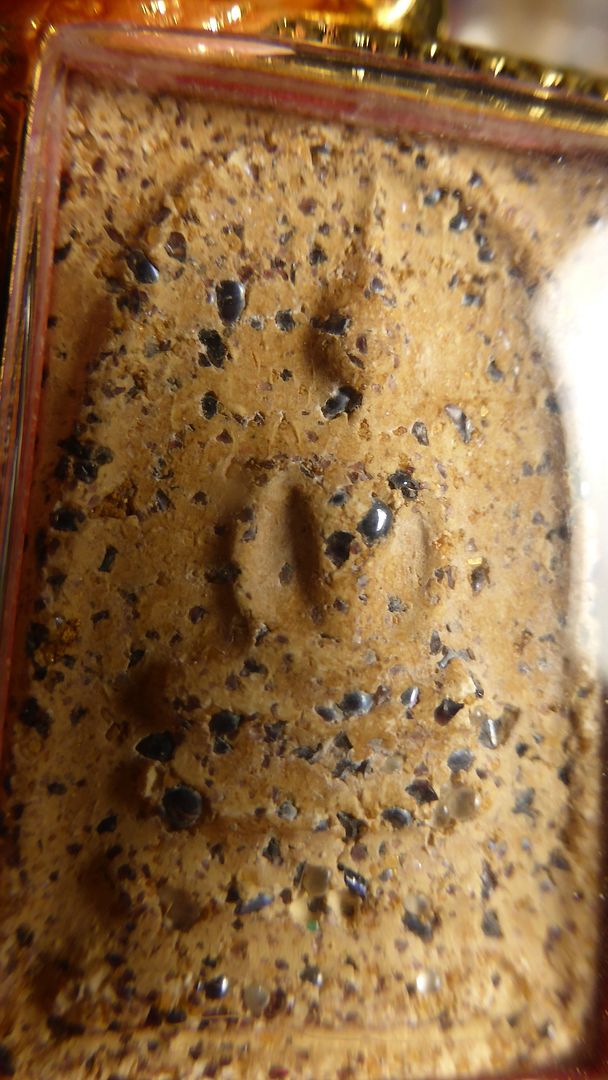 These Sarira Pearl/ Rose/ Phra Tath India Buddha relic set of 5 Benjapakee amulets have been createdby monks at the Phra Si Rattana MahathatTemple Thailand. These Buddha relics can also be called Sarira Phra Thad, SariraPhra That, Sarira Phra Tart or Sarira Phra Tad. There are also many other differentnames but they are all Buddha relic's. Sarira is the name for the crystallisedremains of the bones and body of the Buddha after he was cremated. Sarira canalso be found in the cremated remains of all high standing Buddhist spiritualmasters. Sarira are very important relics as they embody the spiritualknowledge, teachings, realizations, living essence (spirit) of Buddhistspiritual masters. Sarira is the evidence of the Buddhist masters'enlightenment and spiritual purity.
Sarira's are usually displayed in a wearable amulet or in a stupa,they are also enshrined inside a Buddhist master's statue or embedded into aBuddhist amulet. Saffron threads are sometimes placed around the Sarira as anoffering.
According to the Pali tradition nothing was left after thebody of the Buddha was cremated except for the Sarira. The bones of the Buddhahad been transformed into something that looked like COLOURED JEWELS andCOLOURED SMALL PEARLS of many different shapes, sizes and colours. Sarira comesin Cabbage seed shape, Milled rice shape, Green bean shape, bone shape, roundshape, and many other shapes.
It is believed that the smaller shapes of Sarira will floatwhen placed in water and will attract each other when they float. The colour,shape and size of Sarira can increase or decrease by themselves. Most of theSarira are much lighter compared to ordinary stones of the same size. Sarirashould not be tested to see if it floats by an ordinary person as you wouldhave to 'Look down at the Buddha'. It is believed the Sarira can shine in thedark and can fly around in their amulet or stupa container.
The transformation from a cremated body into Sarira iswonderful as it is hard to believe that the remains and ashes could betransformed into something like glowing jewels of different colours and shapes.
********************************
Please Note:
ALL of our Thai Buddha Amulets are REAL BUDDHIST AMULETS that we have donated for / bought in Buddhist Temples and all of our amulets have been blessed in Buddhist Temples by Buddhist monks and are totally REAL.
Buddhist monks do NOT SELL real Buddhist amulets to foreigners and the majority of Buddha amulets that are bought in Thailand by foreigners are not genuine… they are fake!!!
All of our amulets come from Buddhist temples in Thailand. All of our amulets are TOTALLY REAL and have been created and blessed by Buddhist monks.
*****************
All of our SACRED BLESSED & EMPOWERED items
are guaranteed to be authentic and as described.
**********************