Buddha PURE WHITE SAI SIN BRACELET blessed by Buddhist Monk. PROTECTION & LUCK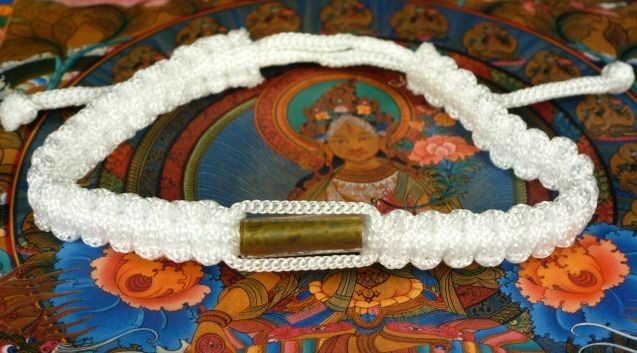 This Bracelet has been blessed by Luang Phor Sao
Wat Rath Sanoon Temple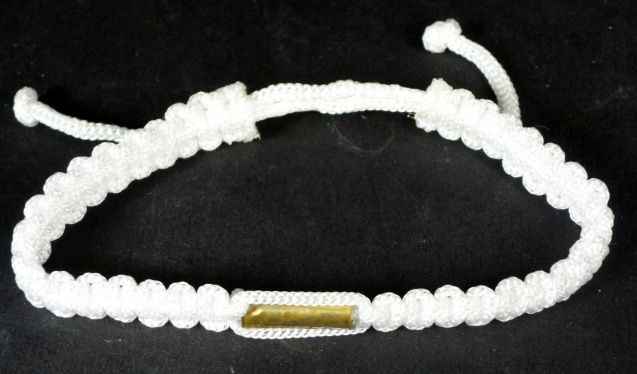 PLEASE NOTE: This blessed WHITE Sai - Sin bracelet is FULLY adjustable to 9 inches
(More pictures below)
INCLUDED WITH this bracelet is the picture of Luang Phor Sao. (see below)

BUDDHIST SAI-SIN BLESSED BRACELET
This is a Sacred blessed and empowered Sai Sin bracelet that has been blessed by Luang Phor Sao in the Wat Rath Sanoon Temple. This Blessed and empowered sai-sin cord bracelet is full of great spiritual power. The reason for the release of these sacred blessed items, is that the world is now a dark and dangerous place and we would like spiritual and sacred people to be part of the new awakening. These items have a HUGE amount of power inside and when you hold them you will see and feel a sacred power like you have never felt in your life.


SAI SIN BLESSED BRACELET: A Sai Sin bracelet "Auspicious thread" is simply a length of cord that has been appropriately blessed by a Buddhist Monk. The tying of the Sai Sin around your wrist is the tying in of good health, much happiness and great luck. The Sai Sin cord will also guard you from danger, will dispel evil and negative bad and dangerous energy, and protect you from disease.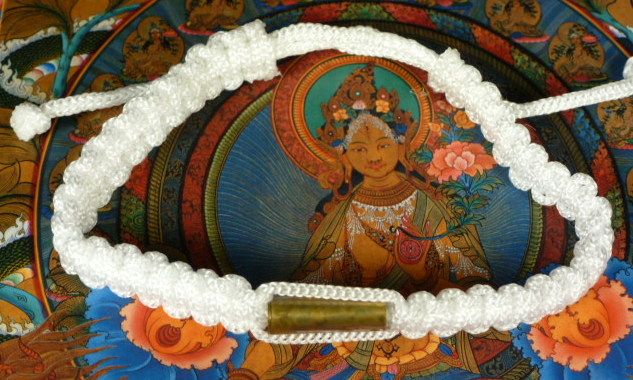 This Bracelet has been blessed by Luang Phor Sao
Wat Rath Sanoon Temple
The above picture of Luang Phor Sao is included with this bracelet.
********************************
At times, you can change your circumstances only by embracing the spiritual within you.
To heal someone, you must first know why people suffer. If through healing them, you can show them how to stop suffering, you have fulfilled your role as a physician.
At the heart of all suffering there is a spiritual remedy that comes about from knowing the relationships between karma and suffering. Karma comes from the chaos that exists within all living creatures, all aspects of this world and the universe at large. Some chaos is good, some indifferent, some bad, but it is the stuff from which happiness and then enlightenment can be made.
******************
Thinking is a skill that leads to self knowledge. Self Knowledge is wisdom.
Thought and Sound: Our thoughts are our individual distillation of the sounds of the world and the universe-- of mankind, nature, of life living itself. These sounds fill the broad spectrum of life and find their expression in human thought, which then leads to creativity and endeavour.
Sound and Light: According to ancient Tibetan beliefs, sound is made up of light. Light both physical and spiritual, is the essence of the construction of any sound.
To Create Good Energy: You must first focus on your life, you will see the nature of your problems and obstructions that are common to virtually everyone on this planet. Simply starting the process of changing them will help to cultivate stronger mental energies. You need to be willing to try!!
At times in our lives, we may come across obstructions that are so powerful, the only way to transform the situation is to accept it with humility and grace. Then you will be able to see the spiritual significance of why the problem could only be changed in this way.
At times, you can change your circumstances only by embracing the spiritual within you.
***************************
Buddha:
Gautama Buddha's given name was Siddhartha. Gautama is his family name so his full name was Gautama Siddhartha. Buddha is not his name, it is his awakening. Buddha simply means "one who is awakened." Gautama Buddha is the most famous awakened person. There haven been many Buddha's before him and there have been many Buddha's after him-- and as long as every human being can become a Buddha, new Buddha's will go on springing up in the future. Everyone has the potentiality...it is only a matter of waiting for the right time. Some day, tortured by the outside reality, in despair of having seen everything and found nothing, you are bound to turn inward.
In Buddhist terminology, 'Buddha' is equivalent to 'truth'. Buddhists don't talk much about truth; they talk much more about the Buddha. When you become a Buddha, you become awakened. Just ask what awakening is. Just ask what awareness is, because when you are aware, truth is there; when you are not aware, truth is not there.
A Buddha is one who lives from moment to moment, who does not live in the past, who does not live in the future, who lives in the here and now. Buddha hood is a quality of being present - and it is not a goal, you need not wait, you can become a Buddha just here and now.