Created from metal from the Wat Bang Phra Temple, and blessed in theTemple. (Temple of the Little Buddha) (see pictures below)
Nakhon Pathom Province Thailand.
6 inches long 1.25 inches wide.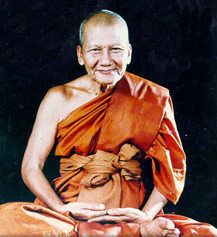 LUANG PHOR PERN EMBOSSED ON TAKRUT.

6 inches long 1.25 inches wide.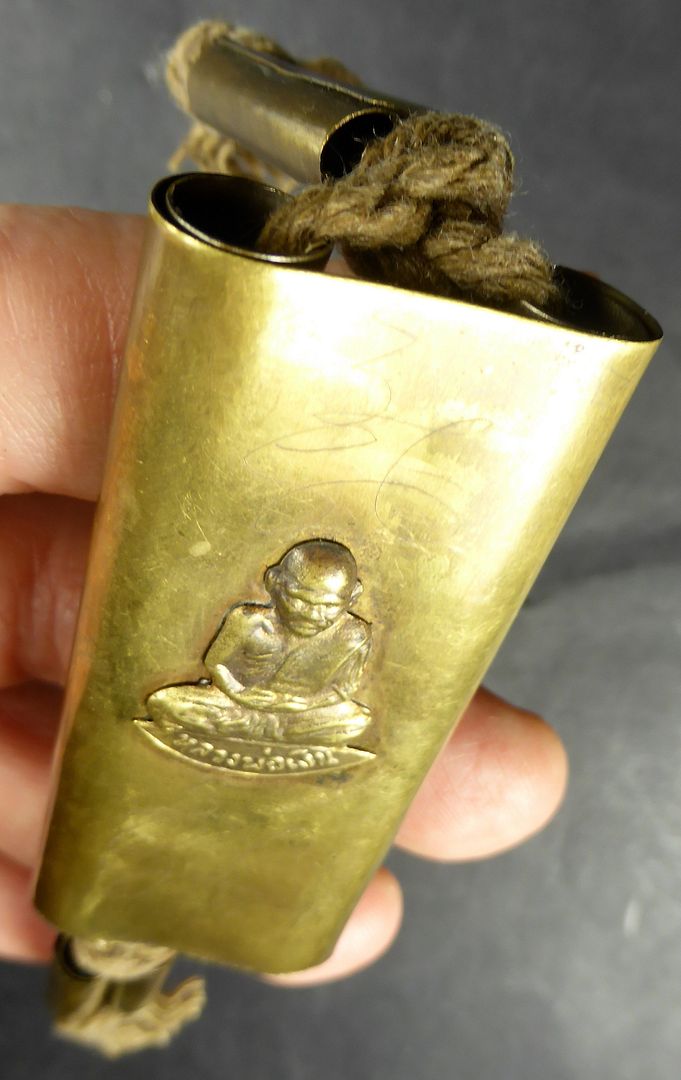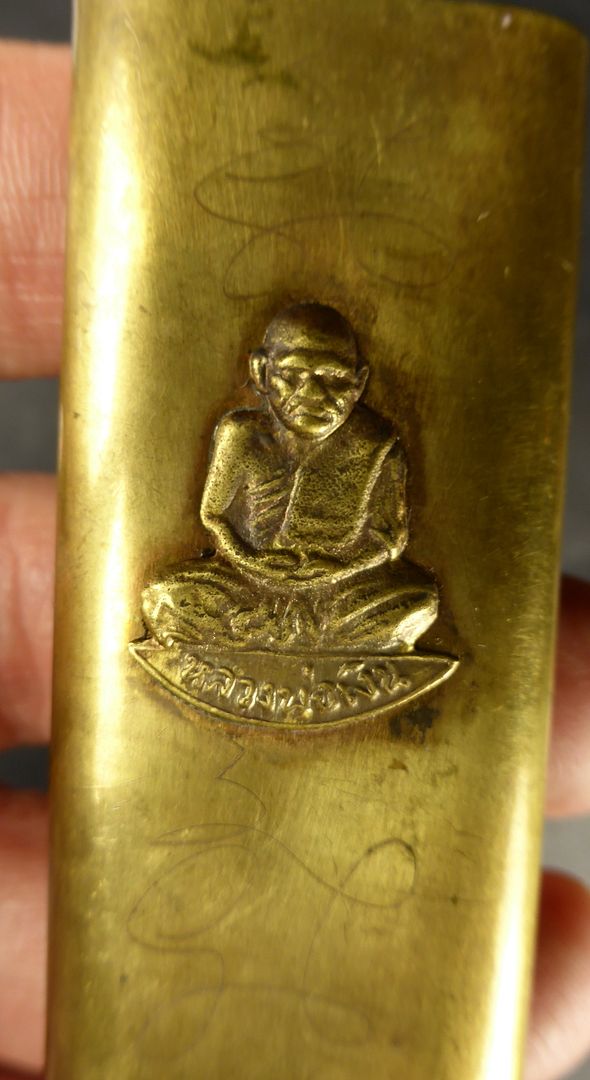 Luang Phor Pern riding tiger at Wat Bang Phra Temple, Thailand.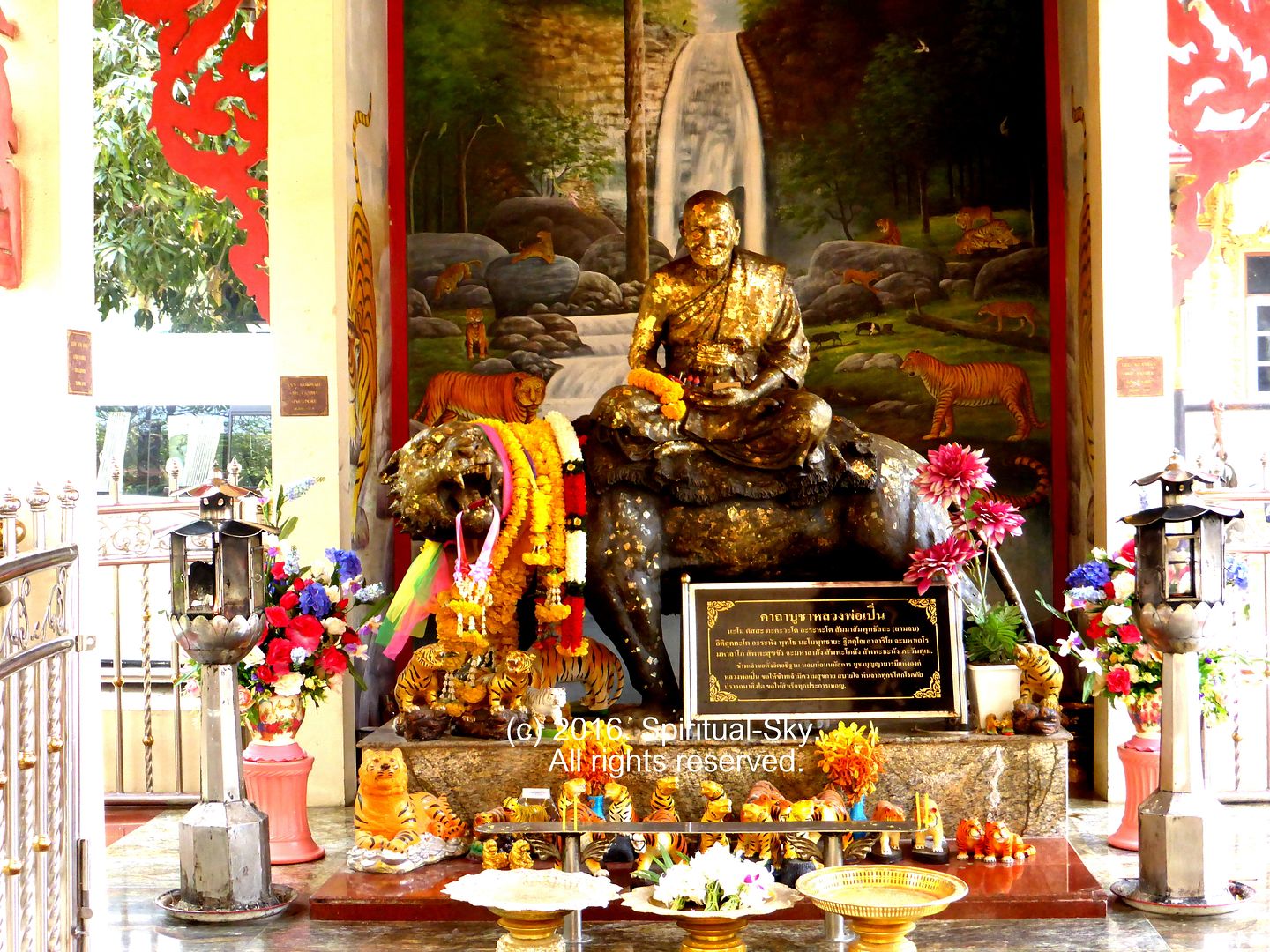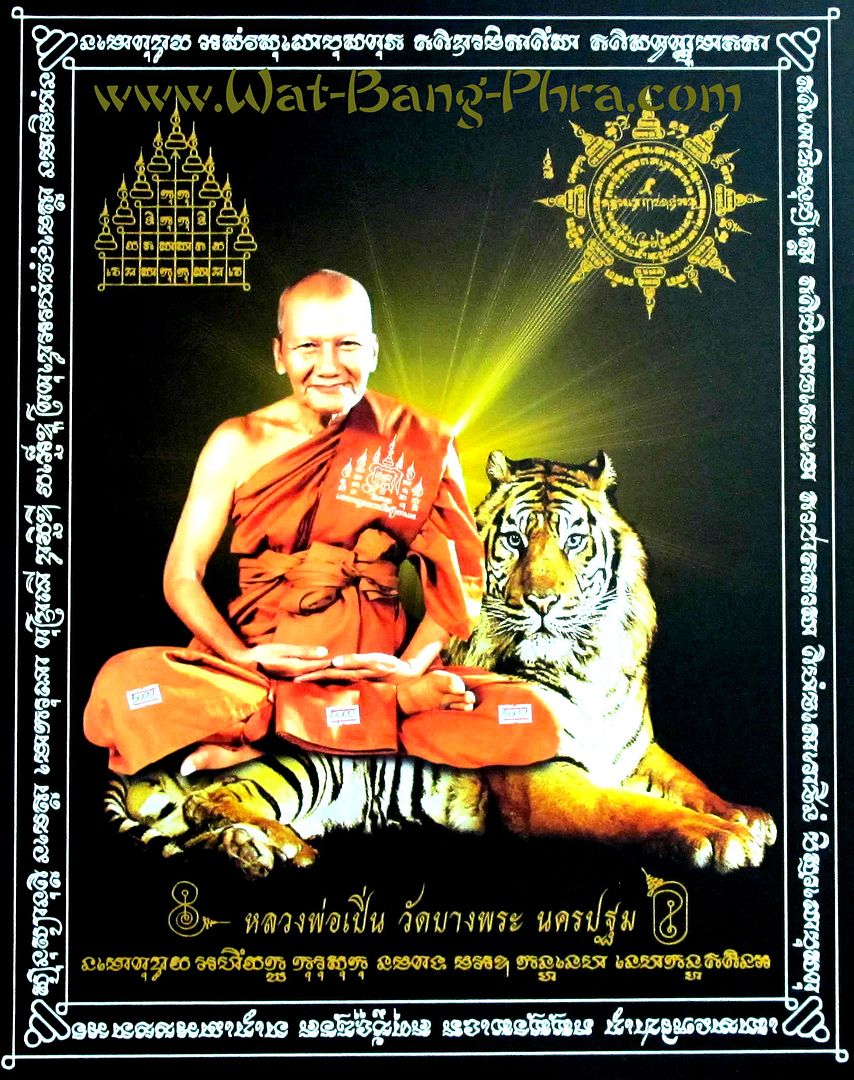 Luang Phor Pern - Wat BangPhra (Nakhon Pathom)
Luang Phor Pern Tithakuno was born in Nakhon Pathom province on the 12th ofAugust 1923 (Buddhist Year2466). He studied magic under Luang Phor Dang of WatToongKauk Suphanburi Province. Luang Phor Dang was a guru monk who had greatknowledge of Visha (using poisons for therapeutic purposes & better health)and meditation. Luang Phor Pern wanted to study Buddhist magic to protecthimself from the dangerous elements of the region. Luang Por Pern was a soldierat the age of 21-22. After he finished he commenced studies of spiritualtattoos or Yant composition from Luang Phor Huem of Wat Bang Phra who was a masterteacher in Buddhist Magic and Sorcery.

Luang Phor Pern was ordained at the age of 25 by Luang Phor Huem. 4 years later Luang Phor Huem passed away. Afterthat Luang Phor Pern went to Luang Phor Opasi of Wat Opasi , Bangkok to buildup his knowledge of Visha and Buddhism for about 1 year. Luang Phor Pern was adisciple of "Agkara Khorm" , and a student of yant (spiritual tattoo) composition and application. His yants (spiritual tattoos) were renowned for thepower that they carried. Luang Phor Pern studied vipassana meditation withtotal dedication for many years. He became a disciple of Luang Phor Opasi whowas one of the greatest monks of the time, known for his white magic power.

In 1953, Luang Phor Pern went "Tudong" in the deep jungle of Kanchanaburi which borders Thailand and Burma. Tudong is a monk'ssolitary forest journey to gain knowledge, to build up good karma and to knowthe teaching of Buddha. The jungle of Kanchanaburi is the thickest darkest jungle full ofdangerous animals and evil spirits. It was said that when Luang Phor Pern wasin the jungle he was protected by a huge fearsome tiger which always accompaniedhim. Ever since then, the tiger became the protective symbol of Luang PhorPern.
Later Luang Phor Pern became Abbot of Wat Koeg Khaemao inNakorn Pathom, which at that time was not only in a bad state of repair but wasalso in an area that was inaccessible, being thickly forested. He developed andrepaired the temple gaining the love and respect of the local people. His veryfirst amulets were consecrated at Wat Koeg Khaemao. It was from the donationsreceived in return for those amulets which were consecrated by him that he wasable to renovate the temple. He was later asked to become the Abbot of Wat Bang Phra.
In 1966 (2509), admirers and disciples of LuangPhor Pern erected a statue of him at Wat Bang Phra in honour and respect of allthe great acts of compassion he had performed for the people of Nakhon Pathomprovince. Luang Phor Pern was much loved and respected wherever he travelled ashe possessed a fantastic outgoing personality and everyone could see his greatcompassion and his power to help all people with his magic. At Wat Bang Phra hewas very well known for his yants (spiritual tattoos) and every March there isa special tattoo festival at the temple.
Luang Phor Pern passed away on 30th June 2002 (2545)at the age of 79.

A TAKRUT is rolled up metal foil that is inscribed with yants. A Yant is a sacred geometry design incorporating Buddhist psalms and magical formulas that invoke various elements and powers of protection and various blessings. The Buddhist psalms written within and around these yant are know in Thai language as "kata". A kata is what we might call in the West a "Mantra", the word Mantra is a Sanskrit word meaning "prayer". The casting of a magic spell is similar to the recitation of a Mantra in the sense that the concept of invocation / evocation is inflected in order to achieve a certain result. The ancient tradition of tattooing a sacred yant is probably at least one to two thousand years old. The oldest definite historical evidence of sak yant being practised in Thailand dates back to around the times of King Naresuan Maharaj, around the time that the kingdom of Ayutthaya was still in its golden age. The warriors were tattooed with Yant and also wore "Suea yant" (yant shirts, that had protective designs intended to ward off the blows of sharp weapons inscribed all over the surface). The Yant designs themselves are not the only element necessary to enable the magic power believed to be contained within these sacred geometrical designs. Many Buddhists believe in the power of the Yant. Some Yants are meant to protect against physical harm (Kong Grapan Yant) whilst others are meant to bring good luck (Maettha Yant).
Since the time of King Naresuan (สมเด็จพระนเรศวรมหาราช), Thai soldiers have sought protection from the power of sak yant and the wearing of amulets. In the Korean, Vietnam and second world wars, Thai soldiers were nicknamed "tahaan pee" (Thai: ทหารผี) or "ghost soldiers" by the allied forces, because of their sak yant tattoos and amulets.
A picture of me at the Wat Bang Phra Temple, Thailand.