PHRA SOMDEJ WAT BANGKHUNPROM BLESSED LP KOON + 13 MONKS 2531 (1988) ENAMEL CASE

PHRA SOMDEJ PIM YAI WAT BANGKHUNPROM
BLESSED by LP KOON + 13 OTHER MONKS
1988 (B.E.2531)
Special gold shaving Buddha edition.
Gold shavings from old Buddha statues in amulet.

43 mm high x 30 mm wide

SUPERB OLD ENAMEL CASE
This amulet was blessed by LP Koon and 13 other top monks in 1988 (B.E.2531)
This Phra Somdej Bangkhunprom 1988 (B.E.2531) gold shaving amulet was blessed at a great ceremony held on April 30th 1988 (B.E.2531) at Wat Mai Amataros, Bangkok, where 14 famous sacred monks joined to recite sacred spells in order to transfer a huge amount of sacred power into these amulets.
The sacred materials (except for the gold shavings from Buddha statues) that were used to create these amulets were the same materials that were used to create the Phra Somdej Bangkhunprom 1974 (B.E.2517) amulets. The sacred material used was also created from the sacred powder that was ground down from the original Phra Somdej Bangkhunprom 1966 (B.E.2509) amulets. The gold shavings used to complete these amulets were a new addition and came from old damaged Buddha statues that had been collected for many years.
***************
This 1988 (B.E.2531) amulet is composed of the sacred powder from this series and at least two previous series, making this amulet exceptionally powerful.
***************
I DONATED DIRECTLY TO THE TEMPLE, THIS AMULET DID NOT COME FROM A STORE OR PRIVATE SELLER OR COMPANY.
YOU HAVE TO DONATE DIRECTLY TO A BUDDHIST TEMPLE TO MAKE SURE THE AMULET IS REAL
***************************
This is a Buddha amulet from Thailand called a 'PHRA SOMDEJ'. (The King of amulets).
Thai people believe that the Phra Somdej amulet is the best amulet to give very strong protection to the wearer. A Phra Somdej amulet will help you acquire great wealth, give you good luck in your business and every day life, will help you overcome any obstacles in life, will protect you from being harmed and protect you from all types of danger. A Phra Somdej amulet will also protect you from evil spirits
.
Phra Somdej were created by Somdej Phra Buddhacara Toh Prommarangsi (Somdej Toh) son of
King Rama I.
He started to make Phra Somdej amulets in B.E.2409. Materials for making Phra Somdej comprise of : Shell lime, holy powder, assorted flowers from shine, rice, lotus, ashes, honey, banana, tang oil, etc. When the amulet has been created it is chanted with spells by Buddhist monks. A Phra Somdej amulet will bless you for good karma and strong protection against negative energy. A total of 84,000 amulets were made at the time. Phra Somdej Wat Rakhang is one
of the most famous and the best amulets from Thailand.
************************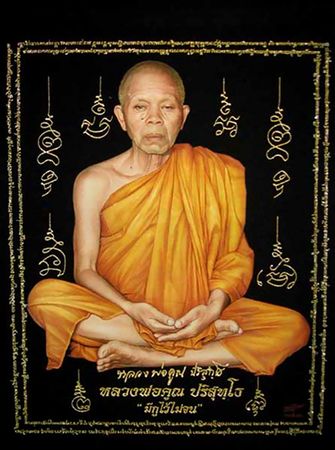 Luang Phor Koon Parisuttho
Luang Phor Koon Parisuttho was the Abbot of WatBan Rai Temple, Nakhon Ratchasima Province, Thailand. Luang Phor Koon was aGrand Master monk who everyone in Thailand knows. He was born on the 4th of October1923 and passed away on 16th May 2015, he was 92 years of age.
Luang Phor Koon was famous for his blessing bygently knocking the devotees head with a soft stick. Amulets made by him aresaid to have miraculous powers and he has followers all around the world. LuangPhor Koon taught and studied the dharma (The teachings / truth of Buddha) andsamadhi, (A state of intenseconcentration achieved through meditation.) In Hindu yoga this is regarded asthe final stage, at which union with the divine is reached). Luang Phor Kongalso taught Luang Phor Koon Wicha (Buddhist magic arts) and the technique ofinserting small takrut into a person's arm.
Luang Phor Koon would personally meet the allthe devotees that went to Wat Ban Rai Temple and would bless them whether they wererich or poor. He would specially make time for the poorer devotees because toLuang Phor Koon the poorer devotees needed to earn a living, and thus theirtime was more precious compared to the richer ones who already had a stablelivelihood.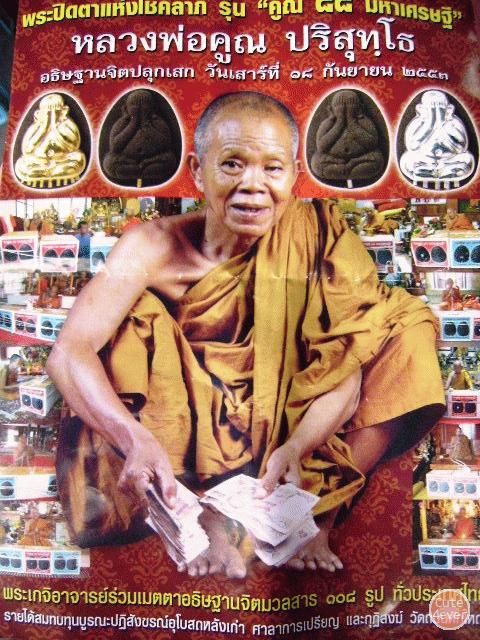 **************
Please Note:
ALL of our Thai Buddha Amulets are REAL BUDDHIST AMULETS that we have donated for / bought in Buddhist Temples and all of our amulets have been blessed in Buddhist Temples by Buddhist monks and are totally REAL.
Buddhist monks do NOT SELL real Buddhist amulets to foreigners and the majority of Buddha amulets that are bought in Thailand by foreigners are not genuine… they are fake!!!
All of our amulets come from Buddhist temples in Thailand. All of our amulets are TOTALLY REAL and have been created and blessed by Buddhist monks.
*****************
All of our SACRED BLESSED & EMPOWERED items
are guaranteed to be authentic and as described.
**********************
It is important that Thai amulets be treated with respect by wearers.
Thai Buddha Sacred Amulets are usually worn on a chain or a cord. Most Buddhists believe that by wearing an image of Buddha or a Thai Monk (Luang Phor) it will give them protection and great luck. Most Thai Buddhists will never leave home without their sacred amulet. The sacred amulet will dispel any evil, it will protect you from disease, misfortune and accidents and guard you on you way. These sacred Buddha amulets will help you to gain huge wealth, success in your every way in your work or your total life. These sacred blessed and empowered amulets can vary in size and in price. The price varies from a few pounds (dollars) to a huge amount of money. This depends on who made the amulet and the rarity. Due to the huge demand for these sacred amulets there are many fakes around and you must be very careful not to be misled. We have in our eBay shop REAL AMULETS (not fakes) that are not expensive as many were released. These are not copies or mass produced fakes but they have been produced for the majority of people who want and need a real amulet at a reasonable price. There are many competitions for these sacred amulets and there are many collectors thought the world. In the competitions the sacred amulets are examined under magnifying glasses and sometimes x-ray machines are used to determine if the amulets are genuine! Thai Buddha Sacred Amulets are often given as gifts to family, friends and business colleagues as the people who wear these sacred blessed amulets have many good tales to tell of how the amulet protected them or gave them good luck. Thai Buddha amulets are very valuable (I do not mean money) and can be worth a great deal of money (I now mean money).
As ALL GENUINE THAI BUDDHA SACRED AMULETS have been blessed before they have been released from the temples of their maker there is no need to bless them again as the PURE SPIRITUAL POWER that has been embedded inside the amulet will remain for ever. There are HUGE amount of fake amulets around that are produced by factories and are not real and have never seen a Temple - Shrine or a Monastery and these are exported around the world.
All of our amulets are REAL and have been produced, blessed and empowered by Buddhist monks in Buddhist temples. Some are expensive as they are rare, most do not cost a great deal of money but are as Special and Sacred as the others. None of the amulets on this site are mass produced fakes !!!!!!!!!!!!!
PLEASE NOTE: The majority of the amulet cases are not old and have been replaced with new cases. The new cases have been worn for a few years. We do not clean or dust any of our amulets as the amulets can be very delicate and can be damaged by dusting or cleaning. The dust and the original patina on an amulet increases its power and is a special part of the amulet.
For centuries many Thai Buddhists have believed that by carrying a Blessed Thai Amulet with Buddha images, Luang Phor (Thai Buddhist Monks) or Gods you will be given good luck, and protection. Thai Blessed amulets will guard you from danger, will dispel evil and negative bad and dangerous energy, and protect you from disease. It is believed that a blessed Thai Buddhist amulet will help you to gain great wealth and will guard you and give you success while you are at home, at work, or travelling. Thai amulets can be cast from metal or carved from a piece of wood, or made from a special magical powder that contains hundreds of different special and secret ingredients that are then pressed into a mould and then baked. After this is done the amulets are blessed by monks in order to give the wearer the sacred spiritual power of protection.
It is important that Thai Buddhist amulets be treated with respect by wearers.
****************************
These Sacred Blessed and Empowered items have PURE POSITIVE SACRED POWER and can and will be attuned to you. Do you remember long ago that you had the ability of second sight, and other special abilities. You might never have revealed this to anyone as you felt slightly afraid and were not sure in yourself. Years later life takes its toll and you now think that these special abilities that you had years ago are now gone. These abilities NEVER GO, you still have the same abilities but you now have to clear a path to open your mind and be able to go back to your childhood and let your mind open up. When you work with our Sacred Blessed items you will soon realise that these are SACRED SPECIAL TOOLS and will work for you in many different ways. They will open up a PURE POWER FLOW FOR YOU, and enable PURE POSITIVE ENERGY to enter your divine spirit.
Our sacred, rare, empowered and blessed items are being made available for the benefit of practitioners, like you, who would like to have holy objects as devotional support to your practice. It is contrary to our vows to engage in the business of selling holy objects for profit. Therefore we do not provide these objects in an ordinary way, thinking of them as goods to be bought and sold. Rather, we are making them available with the express wish to benefit others. All funds in excess of our costs help us to continue our activities.